"You live in a democracy, and suddenly you understand it is not a democracy any more"
Peter Beaumont, The Guardian, 6 April 2017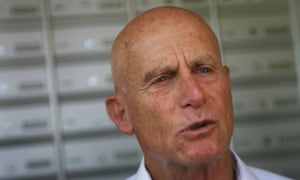 Ami Ayalon, ex-head of the Shin Bet intelligence services, suggests Israel has a dynamic 'of ongoing war' and 'like 1984, there's always an enemy'. (Photograph: Uriel Sinai/Getty Images)
Two former heads of Israel's powerful domestic intelligence service, the Shin Bet, have made an impassioned and powerful intervention ahead of events to mark the 50th anniversary of the country's occupation of the Palestinian territories in June.
One of the pair warned that the country's political system was sunk in the process of "incremental tyranny".
Ami Ayalon and Carmi Gillon were speaking ahead of a public meeting at a Jerusalem gallery which is threatened with closure for hosting a meeting organised by the military whistleblowing group Breaking the Silence, one of the main targets of the rightwing government of Benjamin Netanyahu.
During his recent visit to the UK, Netanyahu also asked Theresa May to cut UK government funding to the group – a request that baffled diplomats as no direct UK funding exists.
"Incremental tyranny [is a process] which means you live in a democracy and suddenly you understand it is not a democracy any more," Ayalon told a small group of journalists, including the Guardian, ahead of the event. "This is what we are seeing in Israel. The tragedy of this process is that you only know it when it is too late."
Ayalon cited recent moves by ministers in the Netanyahu government to change the laws to hit groups such as Breaking the Silence by banning them from events in schools and targeting their funding, while also taking aim at the country's supreme court and independence of the media.
Issues of freedom of speech and expression have become one of the key faultlines in Israeli society – in everything from the arts to journalism – under the most rightwing government in the country's history.
The Babur gallery is under threat of closure after being censured by the country's culture minister, Miri Regev, for holding an event with Breaking the Silence on publicly owned property – a group which Regev claimed "hurts Israel's image".
Gillon was equally bleak in his analysis of Israel's trajectory, saying that the country was being "driven by this occupation towards disaster".
He added: "This country was established on the values of liberal democracy, values written in the only kind of constitution we have – which is our declaration of independence – values we don't fulfil any more. You can analyse what happened to us in the last 50 years, but everything is under the shade of occupation. It has changed us a society. It has made us an unpleasant society."
The comments by Ayalon and Gillon come amid a growing and heated debate between the right and opponents of the occupation over the historic meaning of the six-day war, in June 1967, which marked the beginning of the occupation. Rightwing ministers celebrated the occupation on Thursday as the "liberation" of the occupied territories.