2007 to the Present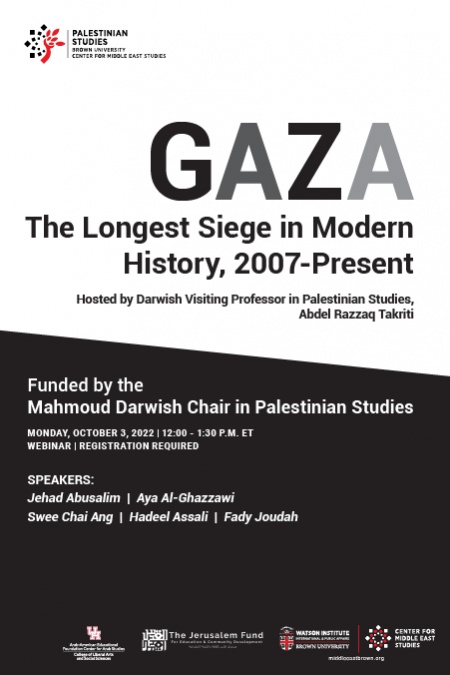 Monday, October 3, 2022
11:00 am – 12:30 pm CT
Webinar
Registration is Required
+ Google Calendar
+ iCal/Outlook
Livestream
In 1948, the tiny Gaza Strip was cut off from the rest of historic Palestine, absorbing a huge number of Palestinian refugees who were ethnically cleansed from their ancestral lands.
In 1967, it was militarily occupied by Israeli forces, its inhabitants suffering from a plethora of colonial domination techniques and movement restrictions over the subsequent decades.
An unprecedented land, air, and sea blockade was imposed on Gaza since June 2007, constituting the longest siege in modern history.
As the UN Special Rapporteur on the situation of Human Rights in the Palestinian territories occupied since 1967 has noted in her latest report: "Israel's apparent strategy is the indefinite warehousing of an unwanted population of two million Palestinians, whom it has confined to a narrow strip of land through its comprehensive 15-year-old air, land and sea blockade." 
With generous support from Brown University's Mahmoud Darwish Chair in Palestinian Studies. 
Cosponsors: The Arab-American Educational Foundation Center for Arab Studies at the University of Houston and The Jerusalem Fund. 
The outcome has been a harrowing process of de-development resulting, as the UN Special Rapporteur notes, "in a 45 percent unemployment rate, a 60 percent poverty rate and with 80 percent of the population dependent on some form of international assistance, in significant part because of the hermetic sealing of Gaza's access to the outside world". 
Besides this siege imposed by the Israeli state with Egyptian state collusion, the Palestinian people living in Gaza have been assaulted and bombarded by Israeli forces from land, sea, and air on a regular basis. Their cities, villages, and refugee camps have suffered from several Israeli military invasions, which have led to the killing of thousands and the maiming of tens of thousands of Palestinians. Centering the voices of Palestinian scholars and intellectuals from Gaza, this panel examines the political and historic context of this process, accounting for its enormous human toll but also highlighting the ongoing will to resist this oppressive colonial present.
---
Hosted by Darwish Visiting Professor in Palestinian Studies, Abdel Razzaq Takriti
Panelists:
Jehad Abusalim, PhD candidate, History and Hebrew and Judaic Studies Joint Program, New York University
Aya Al-Ghazzawi , Writer, English language teacher, Palestinian Ministry of Education
Swee Chai Ang , Orthopedic surgeon, Author
Hadeel Assali, Postdoctoral Research Scholar, Lecturer, Earth and Environmental Sciences, Columbia University
Fady Joudah, Physician, Poet, Translator 

Thanks to those who attended our webinar "On the Ground Jewish Solidarity with Palestinian Resistance in Masafer Yatta" with Peter Beinart, Awdah Hathaleen, Nur Zahor, and Zack Witus. If you didn't have a chance to see it, you can watch the recording. The testimony by our panelists was emotional and powerful.
It was apparent that the expulsion of Palestinians from Masafer Yatta is happening right under our noses in daily increments. Many left the webinar wanting to take action. Below are resources and suggested actions for you to take today!
Resource Links
TAKE ACTION NOW
---
Join us for an exciting webinar, moderated by Peter Beinart, exploring the role of Jewish activists as they join Palestinian-led resistance to the escalating violence of the Israeli occupation. Together, they stand against the state policy enabling daily army and settler violence, home demolitions, and mass expulsions in Masafer Yatta.
The webinar will focus on the connections between Jews (diaspora and Israeli) and Palestinians in the justice movement in Masafer Yatta. We will discuss the imbalance of power and the responsibility Jewish activists have in standing in solidarity, the personal transformations that take place through this work together, how each of the speakers carries this work forward, and the central importance that this joint struggle activism has. Going beyond personal connections, the work creates space for us to stand up together against Israeli settler and army violence and oppression, and make an impact today and in the future.
Peter Beinart, moderator – journalist and professor of journalism at CUNY.
Nur Zahor – an Israeli Arabic and Hebrew teacher and activist in Masafer Yatta.
Awdah Hathaleen – Palestinian Human rights activist, English teacher, and journalist from Masafer Yatta
Zak Witus – Young Leadership & Education Coordinator for New Israel Fund and a recent participant in the Center For Jewish Nonviolence Sustained Solidarity Hineinu delegation in Masafer Yatta.
South Hebron Hills Watch is a group of Israeli American volunteers who forged a strong connection with Palestinian residents of the South Hebron Hills and Jewish activists who are providing witness and physical support to these communities. We are not affiliated with any political party or organization but partner with like-minded people and organizations that support nonviolent activity on the ground and amplify the plight of these Palestinian families in the face of a broader effort to remove them from their lands. Please follow us on Facebook and Twitter.