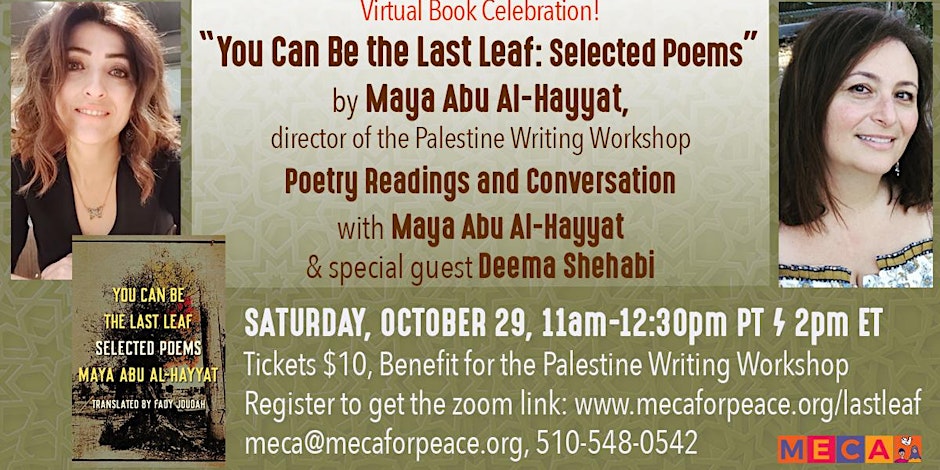 Maya Abu Al-Hayyat directs the Palestine Writing Workshop on the West Bank. She'll read poems & be in conversation with poet Deema Shehabi.
A Virtual Book Celebration!
October 29, 2022, 1 PM CT
Benefit for the Palestine Writing Workshop, Tickets $10
RSVP and share!
Maya Abu Al-Hayyat is a Palestinian writer, storyteller, and mother based in occupied East Jerusalem. Each day she passes through Israeli checkpoints, like the infamous Qalandia checkpoint, to direct the Palestine Writing Workshop, one of MECA's partner organizations. Maya and her team at the Palestine Writing Workshop have published award-winning Arabic children's books and led hundreds of interactive workshops from Nablus to Silwan to Gaza for children, youth, librarians and parents on reading aloud, creative writing, and storytelling. Her work is grounded in the belief that art and literature can change lives and aims to improve Palestinian children's literacy and also encourage their imaginations. She is a gifted storyteller who captures the attention of children of all ages (and adults too!). Maya also runs writing courses for former prisoners, helping them transform trauma into art.
She has published four collections of poems, four novels, and numerous children's stories, including The Blue Pool of Questions. She contributed to and wrote a foreword for A Bird Is Not a Stone: An Anthology of Contemporary Palestinian Poetry, and she is an editor of The Book of Ramallah. Her work has appeared in the Los Angeles Review of Books, Cordite Poetry Review, The Guardian, and Literary Hub. Please join us to learn more about Maya's work and life in Palestine!
Deema K. Shehabi is the author of Thirteen Departures From the Moon and co-editor with Beau Beausoleil of Al-Mutanabbi Street Starts Here, for which she received the Northern California Book Award's NCBR Recognition Award. She co-authored Diaspo/Renga with Marilyn Hacker and won the 2018 Nazim Hikmet poetry competition. Her work has also appeared in Literary Imagination, the Kenyon Review, Literary Hub, Poetry London, and Crab Orchard, and has been translated into French, Farsi, and Arabic; she has been nominated for the Pushcart prize several times.
Cosponsored by Middle East Children's Alliance and Sacramento Bethlehem Sister City. Info: meca@mecaforpeace.org, 510-548-0542.
PRAISE FOR "You Can Be The Last Leaf"
"The Palestinian poet's U.S. debut gathers two decades of her intimate testimony about private life in a public war zone, where 'those who win by killing fewer children / are losers.'"—New York Times
"Al-Hayyat's latest devastating and courageous collection captures the precarious everyday lives of Palestinians with enormous empathy and glistening clarity . . . The vivid translations by Fady Joudah will jostle readers into discomfort and pin Al-Hayyat's stunning voice into their ears."—Booklist
"Abu Al-Hayyat explores the broader political and geographic aspects of Palestinian life under colonial rule while at the same time interweaving the quotidian aspects of life and loss in such settings. Within these frictions of exterior trauma and private contemplations, large constraints and small freedoms, these poems soar."—Chicago Review of Books