"As Americans who have a constitutional right to criticize our own government, we certainly have a right to criticize and, if we choose, boycott a foreign government that is heavily subsidized by US taxpayers."
Ali Abunimah, The Electronic Intifada, 25 July 2016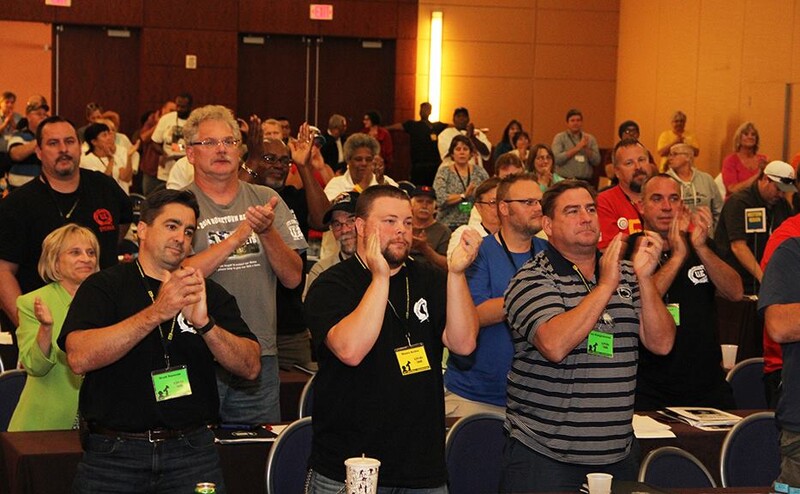 The United Electrical Workers backed BDS in a vote of delegates at the union's August 2015 national convention in Baltimore. (via Facebook)
The National Labor Relations Board has reaffirmed its dismissal of charges against the United Electrical workers union because of its support for the Palestinian-led boycott, divestment and sanctions movement.
The NLRB is the US federal agency that enforces the country's trade union legislation.
In August 2015, the 30,000-strong United Electrical, Radio and Machine Workers of America, known as UE, became only the second national trade union in the US to back BDS by a vote of delegates at its annual convention in Baltimore.
In October, Shurat HaDin, a lawfare group with ties to Israel's Mossad spying and assasination agency, filed a complaint against the union, claiming that its support for BDS amounted to a violation of the law against secondary boycotts.
In January, the labor board dismissed the complaint, stating it had investigated and found "there is insufficient evidence to establish a violation" of the law.
Shurat HaDin appealed the dismissal, but on 26 May the labor board's general counsel issued a letter that the union says reaffirms the earlier decision to throw the case out.
Victory for BDS
UE national president Peter Knowlton welcomed the decision in a press release on Friday.