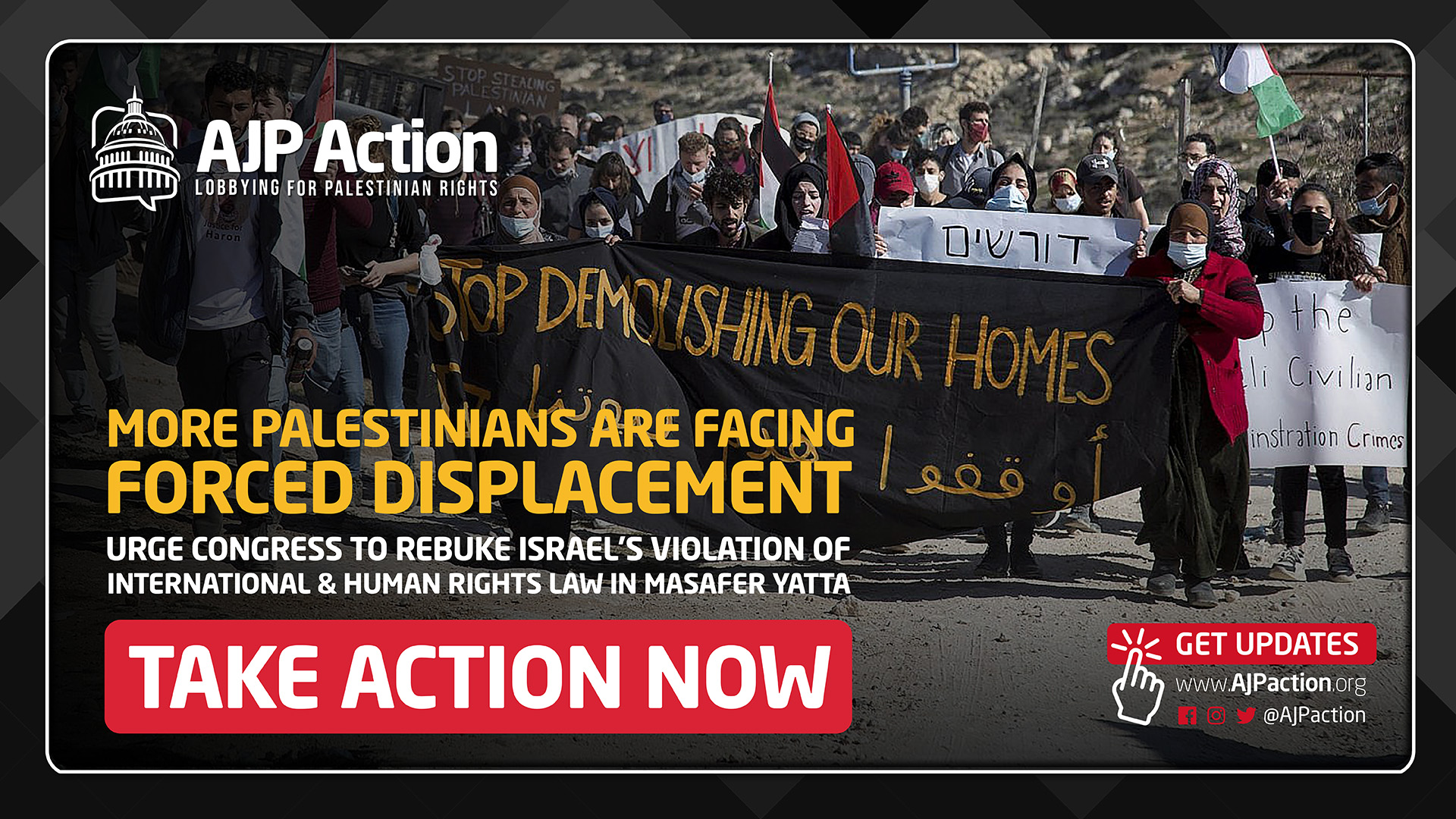 Americans for Justice in Palestine Action (AJP Action) firmly condemns Israel's plans to ethnically cleanse the city of Masafer Yatta in the West Bank. We call on Congress to demand the State Department rebuke Israel for the forced displacement of over 1000 Palestinians, a clear and reprehensible violation of international and human rights law.
YOUR VOICE MATTERS. TAKE ACTION!
Capping off a 20-year-long legal battle between Palestinians and Israeli occupation courts, Israel's high court announced that over 1000 Palestinians can be forcibly displaced from Masafer Yatta, a city in the West Bank. These Palestinians are victims of Israel's ethnic cleansing, displaced from their homes in order for their land to be repurposed for Israeli military use.
The Israeli high court's decision is one of the biggest forced expulsion rulings since Israel began occupying Palestinian territories in 1967.
Israel's demolition of Palestinian homes and businesses constitutes a "grave breach" of international humanitarian law, specifically the Fourth Geneva Convention which cites "extensive destruction and appropriation of property" and "unlawful deportation or transfer" as grave breaches of international law. As a result, Israel's actions are subject to criminal liability. Moreover, the legal concept of universal jurisdiction obligates State Parties to the Fourth Geneva Convention to arrest and prosecute those responsible for grave breaches of the Convention.
Thank you for taking action against injustice and standing for Palestine; we won't stop until it's free.
Sincerely,
Americans for Justice in Palestine Action
AJP Action, an affiliate of American Muslims for Palestine (AMP), is a 501(c)(4) nonprofit organization lobbying for legislation that supports the human rights of the Palestinian people.