Poster by Donna Wallbaum
Venue and Installation by Kathy and Kevin Walsh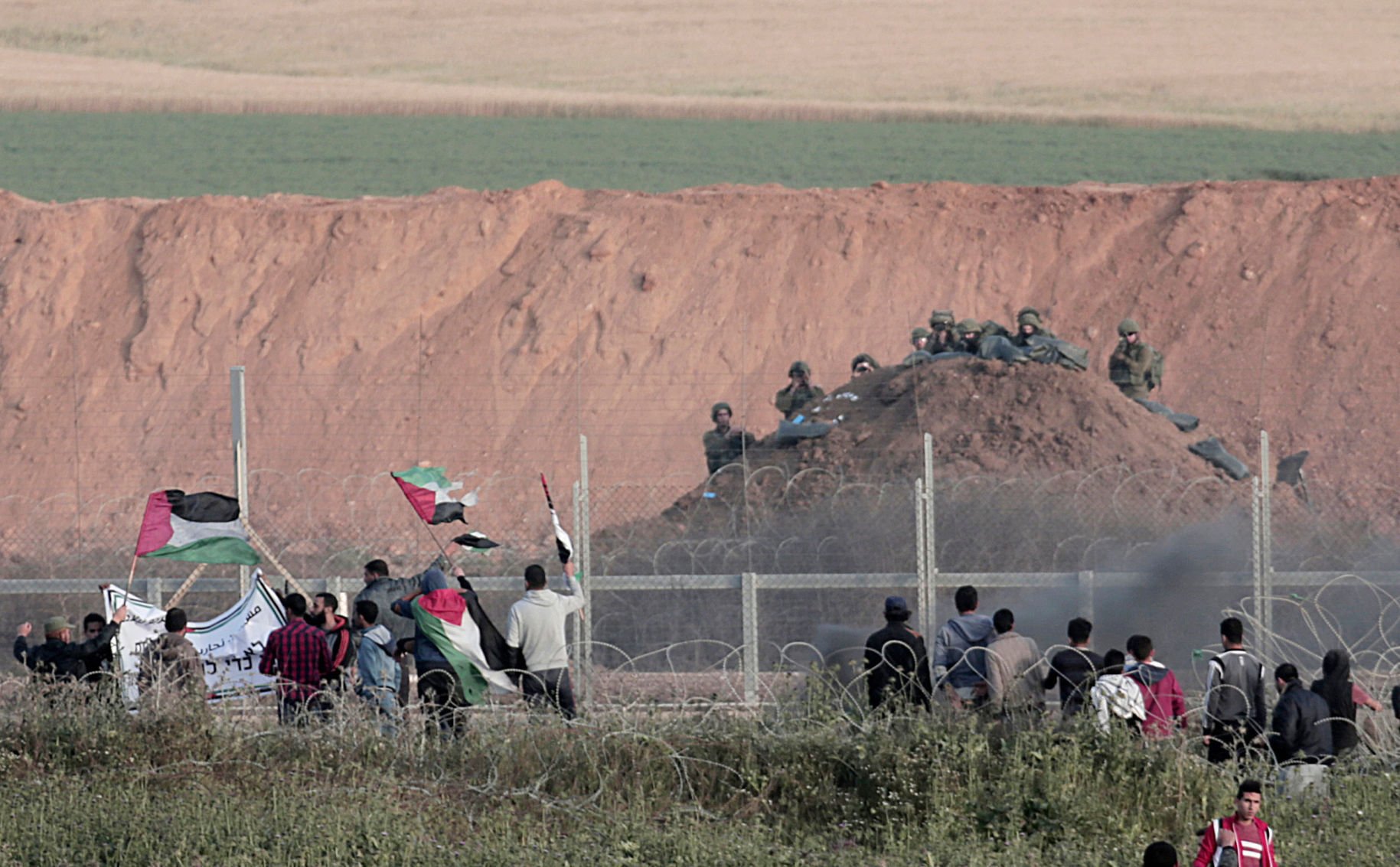 In this Wednesday, April 4, 2018, file photo, Palestinian protesters wave flags in front of Israeli soldiers on Gaza's border with Israel near Beit Lahiya. (ADEL HANA, ASSOCIATED PRESS)
Judith Laitman and Tsela Barr, Jewish Voice for Peace – Madison Chapter, May 3, 2018
This month, Jews around the world are celebrating the 70th anniversary of the founding of Israel.
These celebrations reflect the gratitude of Jews who view Israel as the symbol of freedom from centuries of persecution that culminated in the Holocaust.
We are Jews who will not be celebrating. The reason lies in a tragic irony: While Israel was intended as a safe haven for dispossessed Jews, hundreds of thousands of Palestinians were displaced to make room for the future state of Israel. In fact, Palestinians were forced out through a deliberate policy of expulsion and terrorism in order to create an exclusive homeland for Jews.
This Palestinian exodus is known as the Nakba, or the Catastrophe, to Palestinians. And as Israelis celebrate May 14 as Independence Day, Palestinians commemorate May 15 as Nakba Day.
In the period before and after Israel's official creation in 1948, an estimated 13,000 Palestinians were killed by Israeli forces or terrorist gangs. Five hundred and thirty-one Palestinian villages were destroyed and depopulated. During a period of a few months, according to Israeli historian Benny Morris, 34 massacres of Palestinians occurred. As a result, 731,000 Palestinians fled.
Sadly, things only deteriorated from there. In the 1948 war, Israel annexed more Palestinian land. And, although Palestine was allotted 45 percent of Israel-Palestine in 1947, a year later it held only 22 percent.
In 1967, following the Six-Day War, Israel began its occupation of the remaining Palestinian territory, including the West Bank, Gaza and East Jerusalem. That occupation continues to this day, and it is brutal.
In fact, since 1967, Israel has:
• Demolished nearly 50,000 Palestinian homes because they were built without the permission of Israel's occupying army.

• Destroyed 800,000 Palestinian olive trees (a symbol of life and peace to Palestinians).

• Built Jewish-only settlements, including roads not open to Palestinians, covering 42 percent of the West Bank.

• Confiscated 35 percent of the land in East Jerusalem for Israeli settlements.
Israel also maintains a complete blockade of Gaza, inflicting severe collective punishment on this densely populated area of 1.8 million people. Since 2008, it has conducted three devastating attacks on Gaza, allegedly in self-defense, causing the deaths of thousands of civilians and massive infrastructure damage.
Today more than 96 percent of Gaza's water is undrinkable, and many Gazans only have access to electricity for four hours a day. And Israel has consistently limited the ability of Gazans to rebuild.
Most recently, Gazans have organized a huge protest called the Great Return March. These protests began on March 30 and will continue until May 15, Nakba Day. Although the protests have been mainly peaceful, some demonstrators threw rocks, and some burned tires to make it harder for Israeli forces to shoot at them. Israel responded with deadly force. To date, Israeli snipers have killed dozens of unarmed protesters, including two journalists, and injured more than 5,000. According to Amnesty International, Israeli forces are using military bullets designed to do maximum and irreversible damage.
The Great Return March is about the right to live in dignity and the right of Palestinians to return to their land. Under the U.N.'s Universal Declaration of Human Rights, every person has this right.
But Israel has never accepted this human right as a basis for peace negotiations, whether by return or compensation. In the years after 1948, the Israeli government passed laws preventing Palestinians from returning to their homes or even claiming their property. Any peaceful future for both Palestinians and Israelis depends on recognizing this right.
04 Nov 2017

| The Danger of Neutrality | Anna Baltzer | TEDxOcala

USCPR Director of Organizing and Advocacy, Anna Baltzer, explains in this TEDx talk how neutrality is a dangerous trap — and an illusion. Taking a side, not impartiality, is what really helps resolve conflicts.
---
NUSAYBA HAMMAD, Communications Director, US Campaign for Palestinian Rights
If you're like me, you're following the headlines from Palestine closely. For the fifth week (and millionth time), Palestinians are marching against all odds to demand their rights, including their Right of Return to their homes just a few miles away.
Israel has responded to the Great Return March with extreme brutality, killing and injuring scores of Palestinians for having the audacity to exercise their right to protest.
Seems pretty straightforward, right? Unfortunately, not in the media, where we're seeing headlines talk about "clashes" and "Gaza violence," drawing a false symmetry between oppressor and oppressed, between state repression and a freedom struggle. We hear things like "there is violence on both sides" and "it's complicated."
Palestinians and our allies have been saying this for years: there's nothing balanced about rocks, slingshots, and flags facing high-powered sniper rifles whose bullets leave exit wounds the size of a fist and "pulverize" internal organs.
Nobody should be neutral about that.
But I can't tell you how many conversations I've gotten into with people – including well-meaning progressives! – who want to draw false equivalencies and claim those challenging Israeli aggression are being too "one-sided."
Instead of walking away or debating, my response lately has been to share this TEDx talk, "The Danger of Neutrality, by my colleague, Anna Baltzer. In it, she articulates beautifully why it's so important to take a side.
Anna's talk illustrates perfectly why attempts at impartiality are a dead end, leaving the scales tipped in favor of those with power. From the abolitionist movement to ending Jim Crow, change happened because people took sides. She also makes the case that your own liberation depends on taking a side, no matter who you are.
So next time you're trying to have a conversation about Palestine and you get hit with "you're being too one-sided," send the person this video. And just maybe, it'll get us closer to the day that we never hear have to hear that phrase again.
Onwards,
NUSAYBA HAMMAD

Palestinian demonstrators on a sand plateau during clashes with Israeli forces last Friday east of Gaza City. Residents of Gaza are mounting a series of protests called the Great Return March. (Mohammed Abed/Agence France-Presse — Getty Images)
Fadi Abu Shammalah, New York Times, April 27, 2018
KHAN YOUNIS, Gaza Strip — Early in the morning on March 30, my 7-year-old son, Ali, saw me preparing to leave the house. This was unusual for our Friday routine.
"Where are you going, Dad?"
"To the border. To participate in the Great Return March."
The Great Return March is the name that has been given to 45 days of protest along the border between Gaza and Israel. It began on March 30, Land Day, which commemorates the 1976 killings of six Palestinians inside Israel who had been protesting land confiscations, and ends on May 15, the 70th anniversary of the Nakba, the mass displacement of Palestinians during the 1948 war that lead to the creation of Israel.
"Can I come with you?" Ali pleaded. I told him it was too dangerous. If Israeli military warnings were any indication, the risk that unarmed protesters might be shot by Israeli snipers was too high. "Why are you going if you might get killed?" Ali pressed me.
His question stayed with me as I went to the border encampment in eastern Khan Younis, the southern Gaza town where I live. It remained with me on the following Fridays as I continued to participate in the march activities, and it lingers with me now.
I cherish my life. I am the father of three precious children (Ali has a 4-year-old brother, Karam, and a newborn baby brother, Adam), and I'm married to a woman I consider my soul mate. And my fears were borne out: 39 protesters have been killed since the march began, many by sniper fire, including a 15-year-old last week and two other children on April 6. Israel is refusing to return the bodies of two of those slain.
Thousands more have been injured. Journalists have been targeted; 13 of them have been shot since the protests began, including Yasser Murtaja, a 30-year-old photographer, and 25-year-old Ahmed Abu Hussein, who died Wednesday of his injuries.
So why am I willing to risk my life by joining the Great Return March?
Transporting a wounded Palestinian demonstrator. (Mohammed Saber/European Pressphoto Agency, via Shutterstock)
There are multiple answers to Ali's question. I fully believe in the march's tactics of unarmed, direct, civilian-led mass action. I have also been inspired by how the action has unified the Palestinian people in the politically fractured Gaza Strip. And the march is an effective way to highlight the unbearable living conditions facing residents of the Gaza Strip: four hours of electricity a day, the indignity of having our economy and borders under siege, the fear of having our homes shelled.
But the core reason I am participating is that years from now, I want to be able to look Ali, Karam and Adam in the eye and tell them, "Your father was part of this historic, nonviolent struggle for our homeland."
Western media's coverage of the Great Return March has focused on the images of young people hurling stones and burning tires. The Israeli military portrays the action as a violent provocation by Hamas, a claim that many analysts have blindly accepted. Those depictions are in direct contradiction with my experiences on the ground.
Representatives of the General Union of Cultural Centers, the nongovernmental organization for which I serve as executive director, participated in planning meetings for the march, which included voices from all segments of Gaza's civil and political society. At the border, I haven't seen a single Hamas flag, or Fatah banner, or poster for the Popular Front for the Liberation of Palestine, for that matter — paraphernalia that have been widespread in virtually every other protest I have witnessed. Here, we have flown only one flag — the Palestinian flag.
True, Hamas members are participating, as they are part of the Palestinian community. But that participation signals, perhaps, that they may be shifting away from an insistence on liberating Palestine through military means and are beginning to embrace popular, unarmed civil protest. But the Great Return March is not Hamas's action. It is all of ours.
And our action has been so much more than tires burning or young men throwing stones at soldiers stationed hundreds of meters away. The resistance in the encampments has been creative and beautiful. I danced the dabke, the Palestinian national dance, with other young men. I tasted samples of the traditional culinary specialties being prepared, such as msakhan (roasted chicken with onions, sumac and pine nuts) and maftool (a couscous dish). I sang traditional songs with fellow protesters and sat with elders who were sharing anecdotes about pre-1948 life in their native villages. Some Fridays, kites flew, and on others flags were hoisted on 80-foot poles to be clearly visible on the other side of the border.
All this was taking place under the rifle sights of Israeli snipers stationed about 700 meters away. We were tense, we were fearful — indeed, I've been in the proximity of people getting shot and tear-gassed — but we were joyful. The singing, the dancing, the storytelling, the flags, the kites and the food are more than symbols of cultural heritage.
They demonstrate — clearly, loudly, vibrantly and peacefully — that we exist, we will remain, we are humans deserving of dignity, and we have the right to return to our homes. I long to sleep under the olive trees of Bayt Daras, my native village. I want to show Ali, Karam and Adam the mosque that my grandfather prayed in. I want to live peacefully in my historic home with all my neighbors, be they Muslim, Christian, Jewish or atheist.
UW-Madison Students for Justice in Palestine
Rescheduled from April 27. Stop by to see UW SJP's display memorializing 70 years of occupation and devastation that stills continues today in Palestine. We will be handing out literature and you can find out how you can get involved in the cause. Hope to see you all there!