As anti-BDS forces are trying to get various levels of government to "outlaw" BDS, it appears that some corporations are getting the message.
Landmark boycott victory as G4S says it is leaving Israel
Ali Abunimah, The Electronic Intifada, 10 March 2016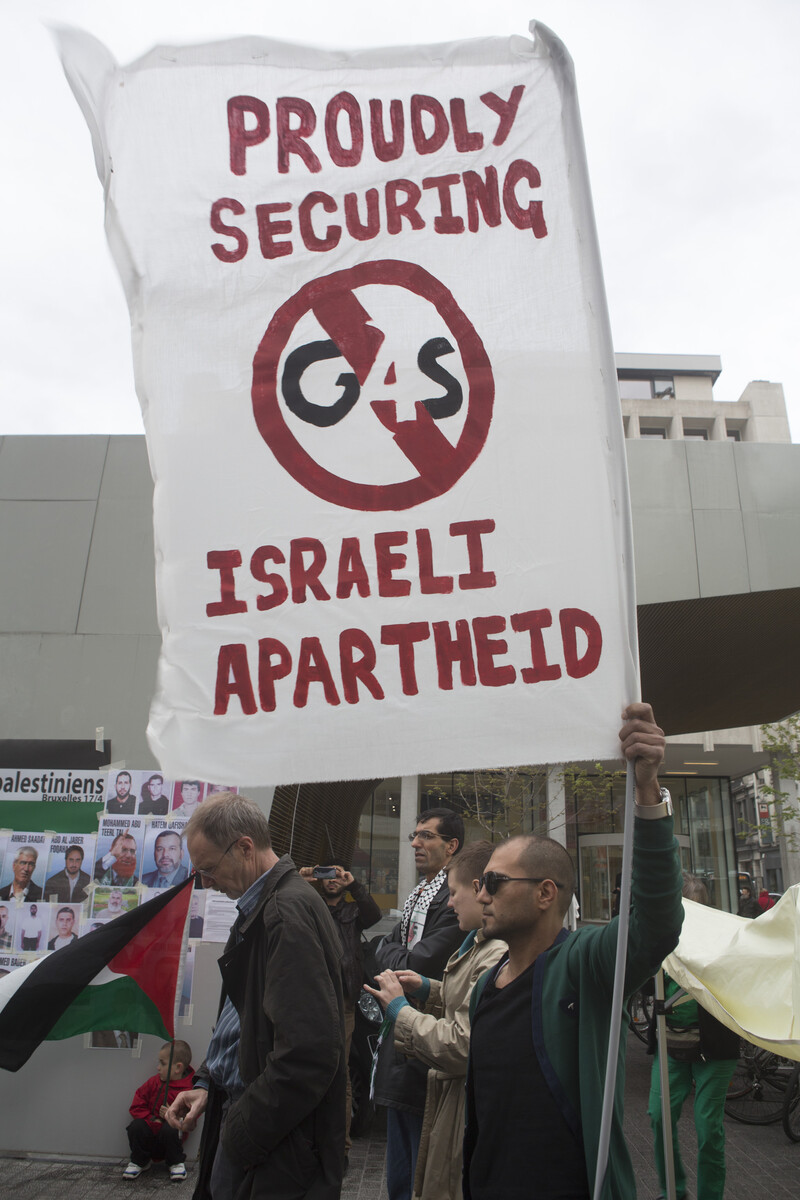 G4S has been protested by Palestine solidarity campaigners worldwide.G4S, one of the world's biggest security and imprisonment firms, has announced it plans to end all its business with Israel within the next 12 to 24 months. (Anne Paq, ActiveStills)
Palestinians are welcoming the news as a major victory and a sign of the powerful impact of the boycott, divestment and sanctions (BDS) movement.
But they also warn that pressure on the company must continue until it has actually ended its role in Israel's violations of the rights of Palestinians, especially thousands languishing in Israel's prisons.
The announcement makes G4S the latest multinational company – following transport and municipal services firm Veolia, telecom giant Orange and construction materials conglomerate CRH – to head for the exits in the wake of sustained campaigns by the BDS movement.
"Reputationally damaging work"
G4S announced on Wednesday that it plans to "exit a number of businesses," including G4S Israel, US "youth justice services" and UK "children's services."
The Financial Times said that by ending these businesses, the company would be "extracting itself from reputationally damaging work."
Since 2010, G4S has lost contracts worth millions of dollars as a direct result of activist campaigns.
Stop G4S, a global campaign endorsed by the Palestinian BDS National Committee, aims to hold the company accountable for providing equipment and services to Israeli prisons in which thousands of Palestinian political prisoners, children and administrative detainees are subjected to inhumane treatment.
G4S also provides equipment for checkpoints along Israel's wall annexing Palestinian land in the occupied West Bank and for its settlements built in violation of international law.
The firm also co-manages the Israeli police academy in Jerusalem.
Lost contracts
In recent months, G4S has lost contracts with two UN agencies in Jordan and with an international Colombia-based restaurant chain.
Other lost clients include universities and trade unions. The Bill Gates Foundation and the United Methodist Church in the US divested major shareholdings from G4S.
"As at the height of the international boycott of apartheid South Africa, BDS pressure is making some of the world's largest corporations realize that profiting from Israeli apartheid and colonialism is bad for business," Mahmoud Nawajaa, a spokesperson for the Palestinian BDS National Committee (BNC), said in a statement.
"Investment fund managers are increasingly recognizing that their fiduciary responsibility obliges them to divest from Israeli banks and companies that are implicated in Israel's serious human rights violations, such as G4S and HP, because of the high risk entailed. We are starting to notice a domino effect," he added.
But the BNC also sounded a note of caution, pointing out that G4S announced in 2013 that it would end its role in illegal Israeli settlements, checkpoints and one Israeli prison by 2015, but failed to implement the withdrawal.
In 2014, G4S announced it would not renew its contract with the Israel Prison Service, set to expire in 2017, but is yet to implement that decision, the BNC also noted.
"G4S has a track record of breaking pledges to end its participation in Israel's crimes so BDS campaign pressure on G4S will continue until it actually sells its Israeli subsidiary," Nawajaa stated.
"No immediate effect"
Sahar Francis, director of the prisoners rights group Addameer, also welcomed the news, but cautioned that "this has no immediate effect on those facing human rights violations inside Israel's prisons today."
"At a time when Israel is stepping up its campaign of mass incarceration as a way of repressing Palestinian society, G4S should end its role in Israel's prison system immediately, as well as its role in maintaining Israeli checkpoints and illegal settlements," Francis added.
There are currently 7,000 Palestinians imprisoned by Israel, according to Addameer.
The Israeli human rights group B'Tselem revealed last week that the number of Palestinians held by Israel on "security" grounds at the end of 2015 was at the highest level since July 2010.
Brad Parker, an attorney and international advocacy officer for Defense for Children International – Palestine, also pointed out that abuses continue.
"Ill-treatment and torture of Palestinian children arrested by Israeli forces is widespread, systematic, and institutionalized in the Israeli military detention system, which relies on G4S equipment and personnel to maintain a number of Israeli prisons and interrogation centers," Parker told The Electronic Intifada.
"While the planned pullout of G4S is welcome news, without justice and accountability and an end to prolonged Israeli military occupation, Palestinian child prisoners will continue to suffer ill-treatment and torture at the hands of Israeli forces."
And campaigners are also pointing out that the abuses G4S is involved in range much further afield than Palestine.
"From the US to Palestine, from South Africa to the UK, G4S works across the world to maintain injustice and oppression. We remain determined to work closely with partners to hold G4S to account for its participation in human rights abuses," the BNC's Mahmoud Nawajaa said.
Nawajaa welcomed the news that G4S is getting out of the youth detention business in the US and the UK, "both of which have been shown to involve abusive practices by G4S and both of which are part of deeply racist incarceration systems."
Sign of strength
While activists clearly see much more work to be done, they have no doubt that G4S's announcement is a sign of their strength.
The BNC acknowledged the role of activists in many countries in pressuring G4S.
In the UK, activists attended the company's annual general meeting in London every year, "dominating the … proceedings with questions to the board about G4S's involvement in Israeli prisons," the Palestine Solidarity Campaign (PSC) noted.
"G4S was one of the biggest targets of the BDS movement, and its decision to disinvest from Israel is a landmark victory in the ongoing struggle for Palestinian freedom and self-determination," PSC interim director Sara Apps said.
"Failing to stop the impressive growth of BDS in pursuit of freedom and justice, Israel is desperately trying to smear and delegitimize our nonviolent movement, including with anti-democratic laws in Europe and the US aimed at silencing dissent and suppressing our freedom of speech," the BNC's Nawajaa said in reference to increased repression of the BDS activism.
"We believe strongly that our ethical approach and just cause will prevail, as this latest G4S announcement shows."