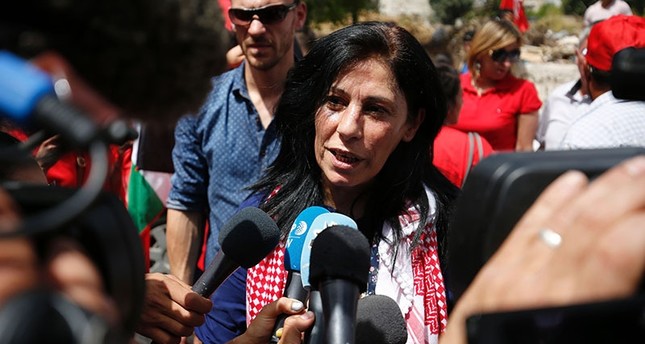 Khalida Jarrar greets speaks to reporters in her hometown, the West Bank city of Ramallah, following her release from an Israeli jail on June 3, 2016 (AFP)
ANADOLU AGENCY, Daily Sabah, June 3, 2016
RAMALLAH, Palestine — Israeli authorities on Friday released a Palestinian female lawmaker who spent the last 15 months in Israeli jails.
Khalida Jarrar, a member of the Palestinian Legislative Council representing the Popular Front for the Liberation of Palestine (PFLP), was released at the Jbara checkpoint near the West Bank city of Tulkarm.
"I was arrested by the Israeli army because I stand up for my people's rights," Jarrar told Turkey's state-run Anadolu Agency (AA) shortly after her release.
"We should use all means at our disposal to preserve our national rights," she asserted.
Jarrar went on to urge all Palestinian political factions to resist Israel's decades-long occupation of Palestine and strive for the release of Palestinian prisoners still languishing in Israeli jails.
On April 2015, Israeli soldiers arrested Jarrar after raiding her home in the West Bank city of Ramallah. She was later slapped with a 15-month jail term by an Israeli court.
Jarrar was charged with having committed a number of "security offenses", including membership in the banned PFLP, which Israel considers a "terrorist" organization.
The court also accused her of calling for the abduction of Israeli soldiers by Palestinian resistance activists to be used as bargaining chips for the release of jailed Palestinians.
Following Jarrar's release on Friday, six Palestinian lawmakers continue to be held by the Israeli authorities.