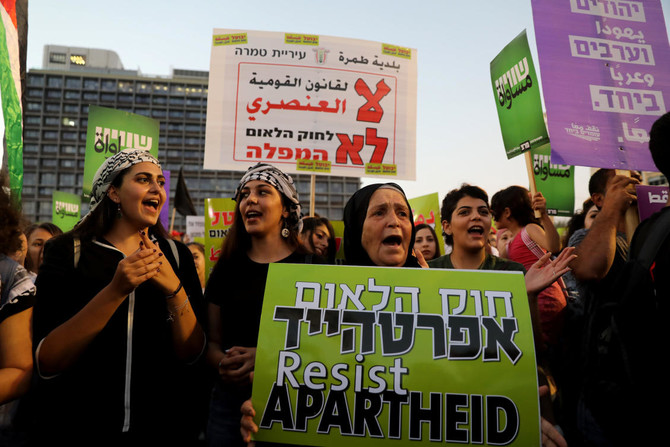 Palestinian citizens of Israel protesting the passage of the Jewish nation-state law. Tel Aviv, August 2018. (Photo: Reuters)
Institute for Middle East Understanding (IMEU), March 17, 2021
Basic facts & figures
There are

1.9 million Palestinian citizens of Israel (as of December 2019), comprising 21% of Israel's population.
83% of Palestinian citizens of Israel are Muslim, 9% are Christian, and 8% are Druze, according to Adalah: The Legal Center for Arab Minority Rights in Israel.

Most Palestinian citizens of Israel

live in three areas: the Galilee in the north, the so-called "Little Triangle" in the center of the country, and the Negev desert (Naqab to Palestinians) in the south.

There are

more than 60 Israeli laws that discriminate against Palestinian citizens of Israel.

There are

60,000 to 70,000 homes (as of 2020) belonging to Palestinian citizens of Israel that are threatened with destruction by the government because they were built without official permission, which is extremely difficult for them to obtain.
Who are Palestinian citizens of Israel?
In 1948, approximately 750,000 indigenous Palestinians

were expelled from their homeland by Zionist militias and the new Israeli army during Israel's establishment as a Jewish majority state. Approximately 150,000 Palestinians remained inside Israel's borders following the armistice that ended the resulting war, many of them internally displaced and denied the right to return to their homes, most of which were destroyed by Israel.

Most Palestinians who survived the expulsions were granted Israeli citizenship but between 1949 and 1966 they were governed by

repressive military rule, forced into segregated "ghettos," had most of their land taken from them for the use of Jewish Israelis, and severe restrictions were imposed on their freedom of movement, speech, and ability to earn a living.

Military rule was lifted in 1966 but today Palestinian citizens of Israel continue to have their land taken from them and homes destroyed, and suffer from widespread, systematic discrimination affecting almost every aspect of their lives.
Systemic discrimination against Palestinian citizens of Israel
As part of an effort to maintain the Jewish majority created by the expulsions of 1948,

Israel has passed a series of laws to limit the growth of the remaining Palestinian population and their towns and villages, and marginalize them politically. Today, there are more than 60 laws that discriminate against Palestinian citizens of Israel directly or indirectly, based solely on their ethnicity, impacting virtually every aspect of their lives, including housing, employment, education, healthcare, and who they can marry.

In 2018, the Israeli Knesset (parliament)

passed the "Jewish nation-state" law as one of the country's quasi-constitutional Basic Laws, which was widely condemned as racist and entrenching apartheid in Israel. Among other things, it declares:
"The right to exercise national self-determination in the State of Israel is unique to the Jewish people."
"The state views the development of Jewish settlement [segregated housing for Jews-only] as a national value and will act to encourage and promote its establishment and consolidation."
Israel's Basic Laws also bar political candidates and parties from advocating for a secular democracy in which all citizens are fully equal, regardless of their religion or ethnicity, by calling for an end to Israel's system of Jewish privilege. In 2018, legislation calling for Israel to become a state based on full equality for all citizens introduced by Palestinian citizens of Israel was banned by a committee and prevented from even being debated by the Knesset. A Knesset legal advisor explained the bill was rejected because it included "several articles that are meant to alter the character of the State of Israel from the nation-state of the Jewish people to a state in which there is equal status from the point of view of nationality for Jews and Arabs."
Confiscation of Palestinian property, destruction of Palestinian homes, 'Judaization' of Palestinian land in Israel
Since 1948 when the state was established,

Israel has used laws such as the British Mandate-era Land (Acquisition for Public Purposes) Ordinance law and the Absentee Property Law to confiscate millions of acres of Palestinian land for the use of Jewish Israelis. The Absentee Property Law, passed in 1950, allows the government to expropriate land belonging to Palestinians, including Israeli citizens, who were forced from their homes during Israel's establishment and prevented from returning. Israel also declared large amounts of land belonging to Palestinian citizens of Israel "closed military zones," and then used a law dating from the Ottoman Empire era to take it over. According to one estimate, of 370 Jewish towns established by Israel between 1948 and 1953, 350 were built on confiscated Palestinian land.

After displacing tens of thousands of Palestinian citizens of Israel, destroying many of their homes and villages, and taking most of their land for the use of Jewish Israelis,

Israel made it extremely difficult for them to build or expand their homes or the boundaries of their towns. In May 2020, Human Rights Watch issued a report entitled, Israel: Discriminatory Land Policies Hem in Palestinians; Palestinian Towns Squeezed While Jewish Towns Grow, concluding:
"Decades of land confiscations and discriminatory planning policies have confined many Palestinian citizens to densely populated towns and villages that have little room to expand. Meanwhile, the Israeli government nurtures the growth and expansion of neighboring predominantly Jewish communities, many built on the ruins of Palestinian villages destroyed in 1948."
These restrictions have caused serious overcrowding in many communities. When Palestinian citizens of Israel are then forced to build without government approval to meet the natural growth of their families, Israel destroys the structures. In 2018, Israel passed the "Kaminitz Law" to expedite the process of destroying Palestinian homes built without official permission. According to the Arab Center for Alternative Planning, as of 2020 there were an estimated 15%-20% of Palestinian homes in Israel lacking difficult to obtain permits, and between 60,000 and 70,000 homes at risk of being totally destroyed by Israel as a result. As of 2015, 97% of the demolition orders issued by Israeli courts were against Palestinian citizens of Israel, even though they only made up about 20% of the population.

The expropriation of Palestinian land, restrictions on the growth of Palestinian communities, destruction of Palestinian homes, and simultaneous promotion of segregated Jewish communities, form part of a policy of "Judaization." In recent decades, Palestinian communities in the Galilee in the north and the Negev in the south have been targeted by the government for Judaization. In the Negev, entire Bedouin villages are being destroyed to make way for Jewish towns. In one prominent case, Palestinian Bedouins in the village of Umm al-Hiran were forced out to make way for a new town for Jewish Israelis called Hiran. In 2019, Israel announced a plan for the Negev that will displace some 36,000 Palestinian Bedouin from their homes.

In February 2018, then-Minister of Justice Ayelet Shaked defended the policy of Judaization

from critics who say its racist and a violation of the human rights of Palestinian citizens of Israel,

declaring

:
"I think that 'Judaizing the Galilee' is not an offensive term. We used to talk like that. In recent years we've stopped talking like that. I think it's legitimate without violating the full rights of the Arab residents of Israel… There are places where the character of the State of Israel as a Jewish state must be maintained and this sometimes comes at the expense of equality."
Since the founding of the state in 1948, Israel's government has established more than 900 localities for Jewish Israelis, but none for Palestinian citizens of Israel except for a small number of government-planned towns intended to house Palestinians displaced from their original communities by Israel. There are also dozens of Palestinian villages and communities in Israel, some of which pre-date the establishment of the state, that are unrecognized by the government, receive no government services, and are not even listed on official maps. As of 2017, only about 3% of all land in Israel is under the jurisdiction of Palestinian municipalities, even though Palestinian citizens of Israel make up 21% of the population
Discrimination in access to land & housing
The Israeli government directly controls

93% of the land in Israel and systematically discriminates against Palestinian citizens of Israel in its allocation through official agencies like the Israel Land Authority and quasi-governmental Jewish National Fund. Combined with the discriminatory Admissions Committee Law, approximately 80% of state lands are off-limits to Palestinian citizens of Israel, who face significant legal obstacles in gaining access to this land for residential, agricultural, or commercial development.

In 2011, the Knesset passed the "

Admissions Committees Law

,"

which allows more than 300 small majority-Jewish towns to exclude applicants

for residency who don't meet vague "social suitability" standards. As noted by Human Rights Watch in a statement entitled

Israel: New Laws Marginalize Palestinian Arab Citizens

:
"The measure anchors in law a practice that has been the basis for unjustly rejecting applications by Palestinian Arab citizens of Israel as well as members of socially marginalized groups such as Jews of non-European ancestry and single-parent families… Parliamentary statements indicate that the law's sponsors intended it to allow majority-Jewish communities to maintain their current demographic makeup by excluding Palestinian Arab citizens, an act of discrimination on the basis of their race, ethnicity, and national origin."
Discrimination in family reunification & immigration
The

Nationality and Entry into Israel Law

prevents Palestinians living in the occupied West Bank and Gaza (including those who were expelled from towns and villages that became Israel in 1948) who are married to Palestinian citizens of Israel from gaining residency or citizenship status. The law forces thousands of Palestinian citizens of Israel to either leave Israel or live apart from their spouses and families.

The

Law of Return

allows Jews from anywhere in the world to immigrate to Israel and receive automatic citizenship, regardless of their family origin, while denying indigenous Palestinians the right to return to the lands they were expelled from during Israel's establishment, preventing the reunification of many Palestinians families.
Discrimination in funding & access to education & healthcare
The Israeli government systematically discriminates against Palestinian citizens of Israel in allocation of state resources to their communities.

In 2009, Israel passed the Economic Efficiency Law giving the government broad power to designate "National Priority Areas" without any criteria and direct enormous amounts of resources to Jewish municipalities over Palestinian ones.
Jewish and Arab children are educated in separate school systems, with Jewish students receiving a far greater share of state funding. As of 2016, on average Jewish students in Israel received 78% to 88% more funding than Arab/Palestinian students did, according to Israeli government statistics.

In November 2020, citing the Jewish nation-state law, an Israeli court ruled the Jewish majority city of Carmiel didn't have to build a school for Arab children or reimburse their parents for costs

incurred sending them to study in other towns. In dismissing a lawsuit from the parents, the court declared, "Establishing an Arabic-language school… [and] funding school rides for Arab students… could change the demographic balance and damage the city's [Jewish] character."
Attempts to erase/deny Palestinian identity & history
The so-called "

Nakba Bill", passed in 2011, bans public funding for institutions and groups involved in activities commemorating the expulsion of 750,000 Palestinians during Israel's establishment as a Jewish-majority state in 1948.

​​In 2014, the Knesset

passed a law distinguishing between Christian and Muslim Palestinian Arab citizens of Israel, declaring that Christian Palestinians in Israel are not in fact Arab, part of an effort to divide Israel's minority Palestinian population. This despite the fact that almost all Christian Palestinians are Arabs, and consider themselves to be such, and have long formed an integral part of Palestinian society.
Notable examples of state violence against Palestinian citizens of Israel
On October 29, 1956,

Israel Border Police massacred 48 Palestinian citizens of Israel in nine separate incidents as they returned to their home village of Kafr Qasim after a curfew they were unaware of had been imposed a few hours earlier. The dead included six women, one of them pregnant, and 23 children as young as eight years old. After the massacre made international news, the killers were convicted and sentenced to long prison sentences. However, after the international headlines faded they were pardoned and all freed within a year.

On March 30, 1976,

Israeli soldiers and police killed six Palestinian citizens of Israel and wounded about 100 others during protests against a wave of land expropriations that were part of a government plan to "Judaize" the Galilee in northern Israel by taking Palestinian land and giving it to Jews. This event marked an important turning point in the political consciousness of Palestinian citizens of Israel and came to be commemorated annually by Palestinians around the world as Land Day.

In October 2000,

Israeli police snipers killed 12 Palestinian citizens of Israel (and one Palestinian resident of Gaza) and injured hundreds of others as they protested against the brutal violence being inflicted by the Israeli army against Palestinians in the occupied territories during the first days of the Second Intifada (uprising) against Israel's military rule. Despite a commission of inquiry finding there was no justification for the use of live ammunition against unarmed protesters, no one was ever charged in the killings.
Notable examples of racist incitement against Palestinians from Israeli leaders
Political leaders
Over the past decade, open incitement and race-baiting against Palestinian citizens of Israel by Israeli political leaders have become commonplace, with Prime Minister Benjamin Netanyahu leading the way. Ahead of the April 2019 election, Netanyahu wrote on Instagram: "Israel is not a state of all its citizens. According to the Nation-State Law that we passed, Israel is the nation-state of the Jewish People – and them alone." His ruling Likud party also placed cameras in polling stations as part of an effort to suppress the votes of Palestinian citizens of Israel. Ahead of the September 2019 vote, he told a crowd of supporters "[Arabs are] trying to steal the election from us." During the 2020 campaign, he ran on the slogan "Bibi or Tibi," the former referring to Netanyahu's nickname and the latter to a prominent Palestinian member of the Knesset, Ahmad Tibi. It was part of a campaign to convince Israelis if they didn't elect him, his main rival would form a government with parties representing Palestinian citizens of Israel. In 2015, he notoriously declared: "Arab voters are heading to the polling stations in droves," as part of an effort to get out the right-wing vote.
In both 2019 and 2021, Netanyahu also made electoral alliances with virulently racist, extreme right-wing political parties that openly call for the ethnic cleansing of Palestinians from Israel/Palestine. One of the parties, Jewish Power, is composed of followers of the notorious Meir Kahane, whose Kach party was labeled a terrorist organization by the US government after one of his followers gunned down 29 Palestinians as they prayed in the Ibrahimi Mosque in Hebron in 1994. In February 2021, Jewish Power leader Itamar Ben-Gvir called for the expulsion of Palestinian citizens of Israel deemed disloyal."

Another prominent Israeli politician notorious for race-baiting and incitement against Palestinian citizens of Israel is Yisrael Beiteinu party leader Avigdor Lieberman,

who served as Minister of Defense (2016-2018) and Minister of Foreign Affairs (2009-2012, 2013-2015) under Netanyahu. Lieberman, an immigrant from Moldova in the former Soviet Union, has campaigned on slogans like "Only Lieberman understands Arabic" and "No loyalty, no citizenship." He also pushed for a law that would force Palestinian citizens of Israel to swear allegiance to Israel as a "Jewish state," thereby formally acquiescing in their own permanent second-class status. His party advocates paying Palestinian citizens of Israel to move to a Palestinian state if one is created. In March 2015, he called for Palestinian citizens of Israel who do not accept second-class citizenship as non-Jews in a Jewish state to be beheaded, declaring: "Those who are with us deserve everything, but those who are against us deserve to have their heads chopped off with an axe."
Religious leaders
In April 2019, the

head of a state-funded pre-military religious school in the West Bank settlement of Eli, Rabbi Eliezer Kashtiel, was recorded teaching his students that Palestinians and other non-Jews have "genetic problems" and want to be "slaves," stating:
"The gentiles will want to be our slaves. Being a slave to a Jew is the best. They're glad to be slaves, they want to be slaves… All around us, we are surrounded by peoples with genetic problems. Ask a simple Arab 'where do you want to be?' He wants to be under the occupation. Why? Because they have genetic problems, they don't know how to run a country, they don't know how to do anything. Look at them… Yes, we're racists. We believe in racism… There are races in the world and peoples have genetic traits, and that requires us to try to help them… The Jews are a more successful race."
In March 2016,

Israel's chief Sephardi rabbi, Yitzhak Yosef, told supporters that according to Jewish law, indigenous Palestinians and other non-Jews "should not live in the Land of Israel," explaining they're only allowed to live in Israel to "serve the Jewish population" and that one day God will come and drive them out, stating:
"If our hands were strong, if we had governing power, then non- Jews shouldn't live in the Land of Israel… But our hands aren't strong. We're awaiting our righteous Messiah, who will be the true and complete redemption, and then they'll do this. Who will be the servers? Who will be our assistants? Therefore, we leave them here in the land."
In January 2015, the

chief Ashkenazi rabbi of the city of Kiryat Motzkin, David Meir Druckman, published an article justifying a recent attack by Jewish extremists on a bilingual school for Jewish and Arab children in Jerusalem, which he derided as "merely a preparatory school for assured assimilation." He also expressed support for a notoriously racist and violent group called Lehava, which opposes the mixing of Jews and Arabs, and condemned the display of Christmas trees in Israel. He began his article:
"Not only is the mall crawling with Arabs luring poor daughters of Israel into their nets, not ceasing by day or night, but the entire main street of Kiryat Haim… is full of decorated spruce trees… Not one person raised a voice in protest!"
In October 2014,

Dov Lior, chief rabbi of the West Bank settlements of Hebron and Kiryat Arba, head of the Council of Rabbis of Judea and Samaria [the West Bank], and leading figure in the religious Zionist movement, called for Israel to "cleanse" all Arabs from areas under its control, stating: "We must strive to clean the entire country." In January 2011, he told a "women's health conference" that "Gentile sperm leads to barbaric offspring."
In August 2013, Rabbi Eli Ben-Dahan, then-Deputy Minister for Religious Affairs under Netanyahu, declared: "[Palestinians] are beasts, they are not human." In December 2013, he declared: "A Jew always has a much higher soul than a gentile, even if he is a homosexual."
In May 2012, Rabbi Aharon Yehuda Leib Shteinman, Spiritual leader of the United Torah Judaism party, which was part of Netanyahu's coalition government, told supporters the world was created for Jews and that Palestinians and other non-Jews are "murders" and "thieves" declaring:
"There are eight billion people in the world. And what are they? Murderers, thieves, brainless people… But who is the essence of this world? Has God created the world for these murderers? For these evil-doers?"
In 2010, the

chief rabbi of the city of Safed, Shmuel Eliyahu, issued a ruling forbidding Jews from renting property to Arabs

. When critics condemned the ruling as racist,

dozens of municipal chief rabbis

also on the government payroll signed a letter supporting Eliyahu. One of the signatories,

Yosef Scheinen, chief rabbi of the city of Ashdod

,

stated

, "Racism originated in the Torah… The land of Israel is designated for the people of Israel."
In September 2010, the late

spiritual leader of the Shas party, which was part of Netanyahu's coalition government, Rabbi Ovadia Yosef

, declared that Palestinians and other non-Jews were created to "serve" Jews,

stating

: "Goyim [non-Jews] were born only to serve us. Without that, they have no place in the world – only to serve the People of Israel… Why are gentiles needed? They will work, they will plow, they will reap. We will sit like an effendi and eat. That is why gentiles were created." The influential Ovadia, who was Israel's chief Sephardi rabbi from 1973 to 1983, had a long history of virulent racism against Palestinians and other non-Jews.

In August 2010,

Rabbi Yitzhak Shapira and Rabbi Yosef Elitzur, heads of a state-funded religious school in the settlement of Yitzhar in the occupied West Bank

,

published a book

condoning the murder of Palestinian and other non-Jewish children on the grounds they may grow up to pose a threat to the state, writing that non-Jews are "uncompassionate by nature" and attacks against them "curb their evil inclination." Several other prominent rabbis also endorsed the book.
The Institute for Middle East Understanding (IMEU) is an independent non-profit organization that provides journalists with quick access to information about Palestine and the Palestinians, as well as expert sources, both in the United States and in the Middle East. Both through its website and its staff, the IMEU works with journalists to increase the public's understanding about the socio-economic, political, and cultural aspects of Palestine, Palestinians, and Palestinian Americans.