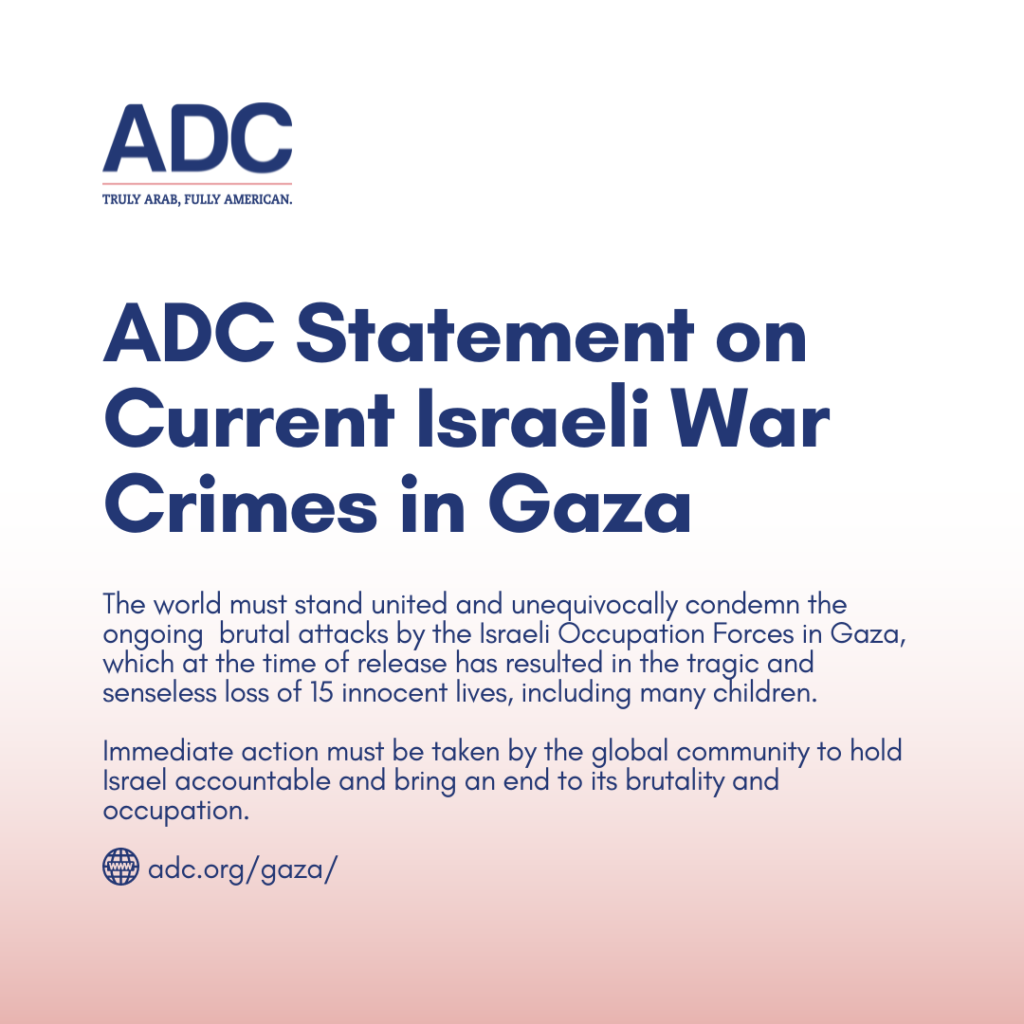 American-Arab Anti-discrimination Committee (ADC), May 9, 2023
Washington, D.C. | May 9, 2023 – The world must stand united and unequivocally condemn the ongoing  brutal attacks by the Israeli Occupation Forces in Gaza, which at the time of release has resulted in the tragic and senseless loss of 15 lives, including many women and children. Immediate action must be taken by the global community to hold Israel accountable and bring an end to its brutality and occupation.
The Israeli government is responsible for these appalling war crimes, violations of human rights and international law. and the United States and others in the global community are complicit. These war crimes are a continuation of Israel's unrelenting, disproportionate, and excessive use of force, which has intensified over the years, and has drawn little to no action from the global community.
We call on the international community, including the U.S., to take immediate and decisive action to hold Israel accountable for its war crimes and aggression. Immediate measures must be taken to bring an end to the current bombing, and stop Israel from further killing Palestinians. It is crucial for world leaders to stand united against Israel's occupation, war crimes, hostility, hate and demand an end to their violent aggression.
In addition to holding Israel accountable, Israel must immediately cease its military aggression, and lift the inhumane blockade on Gaza. The blockade has caused immense suffering to the Palestinian people in Gaza, creating what is essentially an open air prison, and its removal is a necessary step towards restoring the basic human rights and dignity of Palestinians.
The ADC stands in unwavering solidarity with the families of the victims and with all Palestinians who face inhumanities daily. We call upon all people of conscience to join us in standing with Palestinians in demanding freedom, accountability, justice, and an end to the aggression and occupation by Israel.