The transformation of Israeli leftists into dissidents is a reminder that no one is safe from the attempts to turn the 'wrong kind' of Jews into enemies.
Edo Konrad, +972 Magazine, December 16, 2022
Israeli activists hold a protest in Tel Aviv against Israeli military rule over Palestinians in the West Bank, September 23, 2021. (Ahmad Al-Bazz/Activestills.org)
Most left-wing Israeli Jews do not generally think of themselves as political dissidents, and have likely never aspired to such a status. Despite the lavish praise they receive for their bravery, Israeli-Jewish leftists have the ability to speak out without suffering the consequences faced by Palestinians, not to mention activists in other undemocratic states. Leftist Jews have very often been afforded the privilege of being opponents of the right, rather than its enemies.
But all that seems like it may change, and far quicker than even the biggest pessimists in my camp anticipated. In just the last month, since Itamar Ben Gvir was appointed as presumptive national security minister, Bezalel Smotrich given the power to lord over the day-to-day lives of millions of Palestinians in the occupied territories, and Avi Maoz granted the power to implement his homophobic agenda in school curriculums, the shifts have been palpable for Jewish critics of the state and its occupation. The government has not yet been formed, but it is clear to everybody which way the wind is blowing.
Israeli police have since summoned Israel Frey, a left-wing Haredi journalist, for interrogation over a tweet praising a Palestinian who sought security forces, rather than civilians, for a planned attack (Frey has thus far refused to appear before the police). Israeli soldiers attacked and threatened leftists, some of them journalists, during a tour in occupied Hebron (a routine event for Palestinians in the city). Right-wing activists managed to pressure the Pardes Hanna-Karkur Local Council to cancel a screening of my colleague Noam Sheizaf's new film on the occupation due to his politics. And on Thursday, during a hearing by the Knesset's Constitution, Law and Justice Committee, Likud MK Hanoch Milwidsky interrupted Breaking the Silence Executive Director Avner Gvaryahu to call him a "traitor" and an "informant" who should "be imprisoned."
The path to this moment was paved long ago. While loud and unabashed, there have been relatively few Jewish left-wing dissidents in Israeli history who have challenged the Israeli regime — from conscientious objectors, to nuclear whistleblowers, to groups such as the Israeli Black Panthers and the smattering of other independent left-wing groups — while most have focused on reforming specific policies. Meanwhile, Israel has an increasingly right-wing public that has become accustomed to managing an endless military dictatorship over the West Bank and a lethal siege on Gaza, and has little patience for anyone who criticizes it, or even speaks about it openly. The political right, from former Prime Minister Naftali Bennett — the hero of the "government of change" — to Smotrich and Ben Gvir, believe in forcing Palestinians to kneel before Israel (lest we forget that Bennett's government dissolved over his coalition's failure to re-authorize separate West Bank legal systems for Palestinians and Israeli Jews).
Meanwhile, much of the Zionist left no longer has anything of value to say about the occupation, and very often closes ranks with its opponents on the right in attacking Palestinians and the radical left. In Jewish-Israeli society, this has left behind a shrinking cadre of left-wing Jewish activists who recognize that dismantling apartheid and colonialism is the only way to move toward a more just future for Palestinians and Israelis.
Into that vacuum left by the Zionist left swept far-right groups with connections to the Israeli government that have made it their duty to seek out those Jewish Israelis who refuse to toe the party line. A little less than a decade ago, these organizations were behind a chillingly concerted bottom-up effort to delegitimize anti-occupation groups such as Breaking the Silence, B'Tselem, Ta'ayush, and others because they refused to remain silent in the face of Israel's human rights abuses. What seemed like a novel phenomenon in 2015 is now part of the playbook for every single aspiring right-wing politician. In this sense, the attacks of the last month are not new, but they carry a great deal of weight given the makeup of the new government.
Over the last few weeks, we have witnessed how, time and time again, it is Palestinians who are repeatedly on the front lines of Israel's repression, most prominently in the story of Dr. Ahmad Mahajna, who is still fighting for his job after he was falsely accused of handing sweets to a 16-year-old Palestinian who carried out a stabbing attack and who was in his care at Hadassah Medical Center. For over a month, Mahajna was ceaselessly attacked by the media and far-right activists for his so-called support for "terrorism," until enough people came forward to put an end to the witch hunt. If left-wing Israeli Jews are being transformed into dissidents, Palestinians are always one false move from being labeled enemies of the state, simply by their very existence.
Yet this transformation of Israeli leftists into dissidents is a reminder that no one is safe from Ben Gvir, Smotrich, and Maoz's attempts to suss out the "wrong kind of Jews." After they come for Palestinians — particularly in Area C of the West Bank, so-called mixed cities, and the Naqab/Negev — they will come for the anti-apartheid activists. After that, it could be anyone who resists the religious coercion of the agents of Jewish theocracy.
Jewish dissidents-to-be need to know the path will be fraught and often dangerous. Some of us will inevitably leave (plenty already have), while others, particularly those without anywhere to go, will either stay and fight alongside Palestinians, asylum seekers, the LGBTQ community, and any other group this government comes after, or step away from activism altogether. Those looking from the outside at what is transpiring on the ground at lightning speed need to know that we are only at the very beginning.
Edo Konrad is the editor-in-chief of +972 Magazine.

Move constitutes a war crime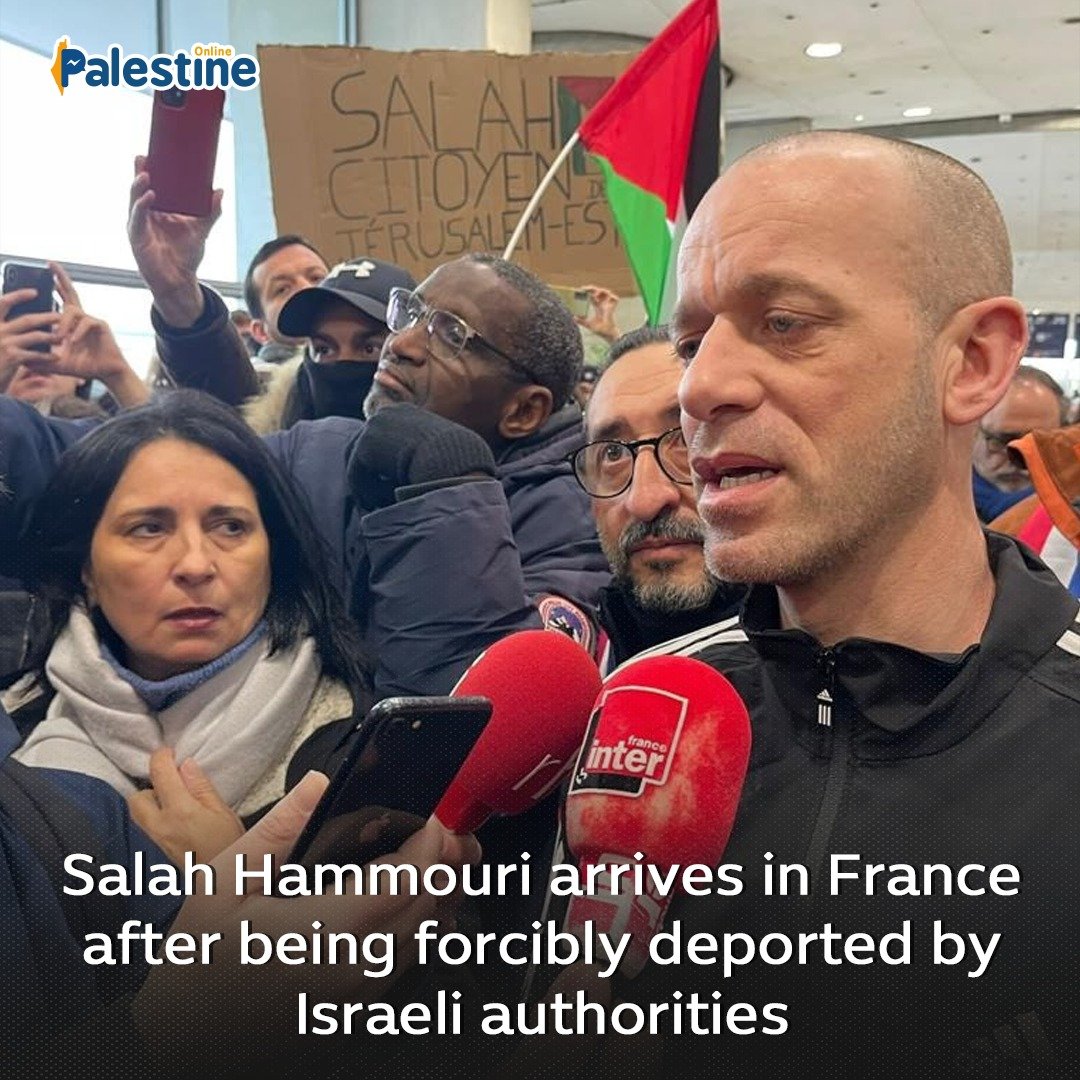 Medjool, 2022-12-18
Ramallah, 18 December 2022
Today, Sunday, 18 December, the Israeli settler-colonial authorities are unlawfully deporting French-Palestinian lawyer and human rights defender Salah Hammouri from his hometown, Jerusalem, to France for "breach of allegiance" to the occupying state. Such a move constitutes a war crime under international humanitarian law of forcible deportation of a civilian from occupied territories. It stands as a horrifying escalation in Israel's systematic practices of ethnically cleansing Palestinians from illegally annexed and occupied Jerusalem (al-Quds).
Despite decades of harassment, Salah has never surrendered his dignity and his basic demand to remain in his beloved hometown. His tenacity and love for al-Quds represents the unwavering Palestinian connection to the city in the face decades of the most brutal policies against its residents.
In his own words from Hadarim prison, Salah Hammouri emphasized that "Wherever a Palestinian goes, he takes with him these principles and the cause of his people: his homeland carried with him to wherever he ends up." Despite the heartbreak of exile that Israel is imposing on Salah, it has lost morally, and has only reinforced his attachment to his homeland and strengthened the will and determination of millions of others to remain.
Salah's forcible deportation is only the latest stage in Israel's long standing judicial and administrative harassment of him, his family and his crucial human rights work advocating for Palestinian political prisoners. He has been made a prime target of Israel's policies of intimidation and silencing of those who challenge its regime of institutionalized racial domination and oppression. This has included repeated arbitrary arrests and detention (often without charge or trial), physical violence, separation from his family (including the deportation of his wife a few years ago), spyware attacks and surveillance, and most recently, the stripping of his permanent residency rights in Jerusalem under "breach of allegiance."
The decision is yet further evidence of the Apartheid nature of the Israeli regime. Salah has sought remedies at every level of the Israeli political and legal system but has been met only by racist policies that operate with the pretense of the rule of law but that exist in reality to maintain Israeli racial domination over Palestinians. Israel's emboldened Apartheid regime is increasingly brazen in its racism and is now on the cusp of inaugurating the most fascistic government in its history.
Israel's expulsion of him is a dangerous precedent for all Palestinians in Jerusalem. Hence, on 16 May 2022, the Center for Constitutional Rights and the International Federation for Human Rights (FIDH) submitted communications to the Office of the Prosecutor (OTP) of the International Criminal Court (ICC) on behalf of Salah Hammouri, which details years of persecution and new tactics to forcibly transfer Palestinians from occupied Jerusalem in the context of the ongoing investigation into the Situation in the State of Palestine.
This expulsion, and Israel's wider apartheid policies, are possible due to the complicity of states and companies that provide the regime with political, economic and military support despite its ongoing breaches of international law. This is evident in France's failure to use any of the leverage at its disposal in order to prevent the war crime of forced deportation and ongoing abuse of one of its own citizens.
Salah will soon be reunited with his wife and children from whom he has been cruelly separated for some time.
Like the millions of other Palestinians now in exile, Salah will struggle for his right to return to his homeland.
For more information: https://justiceforsalah.net/
Salah has arrived in France
Photo Credit: Palestine Online
Press releases 
Continue to follow and share @JusticeforSalah and @LiberezSalah accounts for updates in English, Arabic and French
Palestinians say the worrying trend will only worsen as right-wing extremists make their home in Israel's new government.
YUMNA PATEL, MONDOWEISS, DECEMBER 15, 2022
The violence was indescribable. Something they had never witnessed before.
That is what the Palestinian residents of Hebron told Mondoweiss days after what they described as a settler "rampage" through their city in mid-November.
"It was like a sea of settlers, and all of them were filled with hate in their eyes," Bader al-Tamimi, a local shop owner and municipality worker, told Mondoweiss from the doorway of his souvenir shop in the heart of Hebron's Old City.
"There were hundreds, thousands of them, with even more soldiers protecting them, and they just started attacking anything Palestinian – people and shops,"al-Tamimi said.
Al-Tamimi was describing the events of Saturday, November 19, when tens of thousands of Israeli settlers from around the occupied West Bank gathered in Hebron for the annual march throughout the city in honor of the Torah reading from the Book of Genesis where Abraham purchases a plot of land in Hebron in which to bury his wife, known as 'Shabbat Chayei Sarah'.
The annual march typically draws the most fanatic, right-wing, and religious settlers, who use the event to partake in unbridled attacks against the local Palestinians.
This year, however, was different.
"They came out from this gate right here," al-Tamimi said, pointing to a large steel gate next to an armored military tower covered in Israeli flags. The gate, which sits opposite al-Tamimi's shop, is one of the entrances to the Israeli-controlled area of the city, where hundreds of extremist Israeli settlers live in the former homes of Palestinians, now Jewish-only settlements.
"They immediately started throwing things at us and attacking our shops. They tried to break everything and tried to assault us," al-Tamimi said, referring to himself and his neighboring shopkeeper, who defied Israeli army orders that forced Palestinian shops in the area to shut down for the weekend.
"When we tried to defend ourselves, the soldiers who were with them started beating us up," he said, pointing to a bruise on his arm that he said was left after an Israeli soldier hit him with the butt of his rifle.
"Instead of stopping the settlers, the soldiers attacked us instead and let the settlers continue on their rampage."
Defiling a mosque, vandalizing shops, assaulting Palestinians
As the hundreds of settlers passed al-Tamimi's shop, they made their way through the Old City of Hebron, through the clothing and vegetable markets in the heart of the city, before continuing on to the Bab al-Zawiya area of Hebron, which is under control of the Palestinian Authority.
While most Palestinians in the area had closed their doors for the day along the main road of the market following a military order commanding them to do so, some shopkeepers stayed open. Ahmad al-Awawdeh, 52, the owner of a small clothing shop, was one of them.
"At around 1 p.m., the settlers arrived in this area and immediately started attacking me," al-Awawdeh told Mondoweiss. They started throwing the clothes off the shelves and onto the floor and breaking anything they could."
At the same time, a group of settlers began throwing rocks at the mosque next to al-Awawdeh's shop, breaking the glass on the front doors, while other settlers vandalized the nearby vegetable stands.
"They were trying to get into the mosque, but I and some young men who came to defend my shop went to protect the mosque," he said. "The attack lasted for more than an hour. The soldiers were there the whole time, but they did nothing to stop the settlers."
At the same time, al-Awawdeh said, the soldiers attacked the Palestinians in the area who were trying to defend the people and shops that were under attack.
Legal experts fear Israel's deportation of Salah Hammouri could set a precedent for similar moves against Palestinians holding foreign citizenship

Salah Hammouri's mother (left), alongside Attorney Leah Tsemel (center) and Munir Nuseibeh (right), holds up a photo of him at an emergency press conference in Jerusalem, December 2, 2022. (Oren Ziv)

Oren Ziv, +972 Magazine, December 7, 2022

Israel announced last week that it has revoked the Jerusalem residency of Palestinian human rights lawyer Salah Hammouri and intends to deport him to France. Hammouri, who has been held in administrative detention without charge or trial since March, was informed that the appeals he filed to the District Court and Supreme Court in the past year have been rejected, leading outgoing Interior Minister Ayelet Shaked to order his deportation.

The 36-year-old lawyer was born in Jerusalem to a French mother and a Palestinian father, and has French citizenship. He works at the prisoners' rights NGO Addameer, one of the six Palestinian civil society groups declared "terrorist organizations" by Israeli Defense Minister Benny Gantz in October 2021), based on unsubstantiated allegations of ties to the Popular Front for the Liberation of Palestine (PFLP) that failed to convince European governments. Hammouri is also one of six Palestinian human rights activists whose phones were hacked with NSO Group's Pegasus spyware, according to an investigation by Amnesty International and Citizen Lab last year. 

In October 2021, Shaked ordered to revoke Hammouri's Jerusalem residency on the grounds of "breach of allegiance" to the state, on the basis of confidential material supposedly proving that he is a PFLP activist. His lawyers denied the charges. About five months ago, the Supreme Court ruled that a renewed status revocation process needed to be conducted in his case, which was completed at the end of November. Meanwhile, Hammouri's administrative detention ended on Sunday, and he has been transferred to the custody of the Immigration Authority. (Update: On December 7, Hammouri's legal team announced that the deportation has been successfully delayed until at least January 1, pending further legal challenges.)
'Breach of allegiance'
When Israel annexed East Jerusalem after occupying the territory in 1967 — in a move not recognized by the international community — it gave the Palestinians living there "permanent residency" permits rather than full citizenship (Palestinian Jerusalemites can apply for citizenship, but face many economic and bureaucratic barriers in the process; the vast majority refuse to apply in opposition to the state's illegal annexation). The state can revoke these permits for several reasons, including if someone moves their so-called "center of life" away from Jerusalem. Around 15,000 Palestinians have had their Jerusalem residency revoked since 1967.

The revocation of Hammouri's residency was made possible by an amendment to the Entry into Israel Law in 2018, under then-Interior Minister Aryeh Deri, authorizing the minister to deprive permanent residents of their status for committing "an act that constitutes a breach of allegiance to the State of Israel." Shaked, who ordered Hammouri's revocation, did not specify which actions constituted a "breach of allegiance," nor did she reveal evidence on which the allegation was based. It should be noted that international law prohibits an occupying power from forcing the subjects under occupation to swear allegiance to it.

The state claims that it has new information about Hammouri regarding "terrorist activity," His lawyers, however, believe that he is mainly being deported because of his past conviction for involvement in a plan to murder Rabbi Ovadia Yosef, the longtime spiritual leader of the Sephardic Orthodox party Shas, during the Second Intifada. In 2005, Hammouri was sentenced to seven years in prison after accepting a plea bargain, before being released in 2011 as part of the Gilad Shalit prisoner exchange deal with Hamas in Gaza. 

Since then, Hammouri has repeatedly been placed under administrative detention, including for 13 consecutive months during 2017-2018. Because of the residency revocation last year, Hammouri's latest administrative detention procedure was conducted according to military law, as is customary for Palestinians who live in the occupied West Bank without Israeli residency status. In 2016, Israel prevented Hammouri's wife, a French citizen, and his children from entering the country, and deported them back to France from Ben Gurion Airport; the family has been geographically divided ever since.

Interior Minister Shaked claimed in a statement that "from a young age Hammouri promoted terrorist acts and took advantage of being a resident of Israel for these acts," including "conspiracy to carry out an attack on Rabbi Ovadia Yosef." Attorney Danny Shenhar from the NGO HaMoked, who represents Hammouri together with Attorney Leah Tsemel, told +972 that Israel's attempt to deport him is "a double punishment and retroactive application of the law."

"This is the first case I know of where a resident of East Jerusalem faces forced deportation to another country," said Shenhar. "As a member of the indigenous population of Jerusalem, Hammouri owes no allegiance to the State of Israel," he added. "The fact that this decision was made largely on the basis of secret evidence only exacerbates the injustice."
A critical case
Last Friday, an emergency press conference was held in East Jerusalem in an attempt to prevent his deportation, attended by his parents, Attorney Tsemel, and Munir Nuseibeh, an expert in international law from Al-Quds University, who emphasized at the event that Hammouri's deportation would constitute a war crime. The fear, according to the speakers, is that the attempt to deport Hammouri will be used by Israel as a test case to later deport more Palestinians who hold additional citizenships on grounds of "disloyalty."

"Hammouri's case is important because it is critical for the future of [Palestinian] Jerusalemites," said Attorney Tsemel. "Soon it will be 30 years since the great deportation of Hamas and Islamic Jihad to Lebanon [415 Palestinians in the occupied territories were expelled in December 1992]. This was the last mass deportation. Salah's case affects all Jerusalemites, who are not citizens, who did not ask for status from Israel but received it, and the interior minister and justice ministry claim that they have to show absolute loyalty to the state."

Salah's mother, Denise Hammouri Guidoux, said during the conference: "We were waiting for his release [from detention] at the end of the week, but we heard that he would be deported — it was a shock. We knew about this possibility, but we didn't think it's possible to send someone from his homeland. He is French with citizenship, but he is more Palestinian. He was born in Jerusalem, lived here, studied here, [and] has roots here."

Since the announcement that Israel intends to deport him, several human rights organizations, including Human Rights Watch and Amnesty, have called on the French government and President Macron to prevent the move. A campaign against his deportation has also gained momentum online under the hashtag #JusticeforSalah. The UN Special Rapporteurs on the occupied territories and on counter-terrorism have also called on France and the international community to take concrete actions to stop the expulsion.

In response to +972's question at the press conference, Attorney Tsemel said that she cannot predict how Hammouri will react when they try to put him on a flight, but noted that international law forbids transferring a person to another country against their will. "I hope we don't get there," she added.

The French Foreign Ministry stated: "France is following Salah Hammouri's situation very closely and at the highest level… [he] must be able to have a normal life in Jerusalem, where he was born and where he lives, and his wife and children must be able to travel there to find him."

The New Ecological and Social People's Union (NUPES), an alliance of left-wing parties in the French parliament, said in a statement: "France cannot allow the most basic rights of one of our compatriots to be violated… It is high time that France raises its tone against Israel; its credibility depends on it."