Burger Ranch, a rival, announced it would open a branch in Ariel "for the glory of the state of Israel"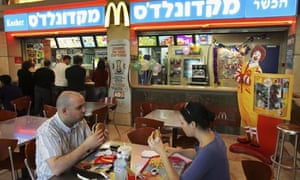 Israelis eat at a kosher McDonald's restaurant in Tel Aviv. Photograph: Getty Images
Harriet Sherwood in Jerusalem, The Guardian, 27 June 2013
McDonald's has refused to open a branch in an Israeli settlement in the West Bank in a move that swiftly prompted calls from settler organisations for a boycott of its restaurants.
McDonald's, which has 180 outlets in Israel and dominates the domestic fast-food industry, declined an offer to open a restaurant in a shopping mall under construction in Ariel, a vast settlement which juts deep inside the West Bank.
The Israeli-owned franchise rejected the invitation, citing a long-term policy not to operate across the pre-1967 green line. "This has always been the policy of Dr Omri Padan [the franchise owner]," McDonald's said. Padan, chief executive of McDonald's Israel, was a founding member of Peace Now, the anti-settlement organisation.
Settlers' representatives condemned the move. "McDonald's has turned from a business into an organisation with an anti-Israeli political agenda," Yigal Delmonti of the Yesha Council, a settlement umbrella organisation, told the Jerusalem Post. "We expect that Israeli citizens, especially those living in Judea and Samaria [the biblical term for the West Bank], will take this into account before entering the company's franchises."
The mayor of Ariel, Eliyahu Shaviro, told Ma'ariv: "The decision by McDonald's not to open a branch in the Ariel mall is an unfortunate decision that discriminates against the residents of the city."