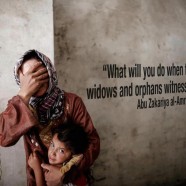 Yasmin Mogahed, Nov 19, 2012
For Jennifer Loewenstein, April 19, 2002 was a "waking nightmare". She stood silent at the edge of the camp, in disbelief–and horror.
Listening to the sound of wailing, she watched as medical workers lay out the bodies of the dead. The corpses, wrapped in white, were loaded onto the back of a pick-up truck.
"I will never forget this time," Loewenstein recalls. "I stayed in the camp for two days, picking through the ruins and debris of people's former lives–watching children and families look for their belongings–anything they could salvage from the wreckage."
Loewenstein was in Jenin.
She had spent much of the previous two years working as an editor and freelance journalist at the Mezan Center for Human Rights in Gaza. During that time she traveled frequently to the Rafah refugee camp to visit friends. It was in that way that she came to know Rafah so well and later started the Madison-Rafah Sister City Project in December of 2002.
But Loewenstein's decision to take on the plight of the Palestinian people was not an easy one. She has since been shunned by her community and accused of being a "terrorist sympathizer" and "self-hating Jew"–a term she considers as ludicrous as calling her a "self-hating human" for opposing human rights abuse.
Despite this opposition, Loewenstein continues her struggle to expose an injustice she wasn't always aware of herself.
"I never really knew much about the plight of the Palestinians until I was much older," says Loewenstein. "I didn't begin to question all the information I'd gotten on Israel and on Arabs until I got to college (at the Hebrew University in Jerusalem)."
Loewenstein grew up in a secular Jewish family, but was instilled early on with a concern for Israel. She still remembers the day when her favorite dress was sent to her cousin overseas. She was only six, but gave up the dress because her family in Israel needed it.
Although her parents were not "avid Zionists", their loyalty to Israel was strong. But even stronger than their loyalty to either Israel or Judaism was her family's loyalty to peace.